Well, I have been working hard this week, very exhausting. But now it is the weekend, so I have been able to rest and relax, and get some cleaning done around the apartment. We only have one more week of summer terms, then it will be back to a more regular schedule. It has also been
very
hot here and oppressively humid. Last night it rained, and today it is cloudy, with occasional sprinkles, so we are getting a little weather relief as well.
Back to my trip to Cambodia. While I was in Phnom Penh I visited the usual tourist sites like the Royal Palace. These things are mildly interesting, but eventually you feel like, "Seen one palace, seen them all."
The royal throne hall, which not coincidentally looks a lot like a temple.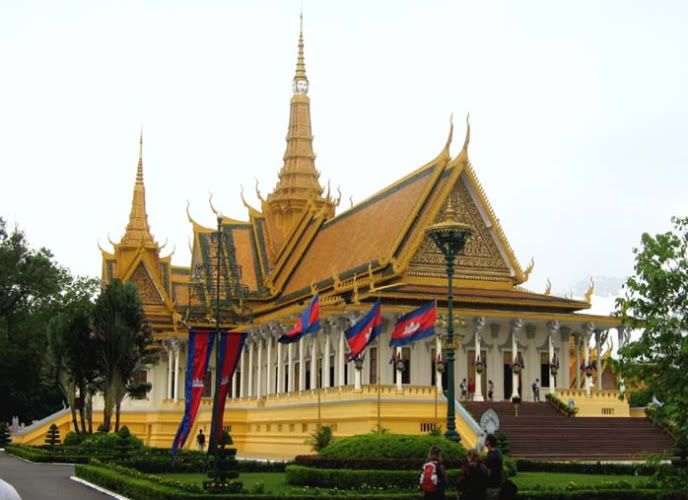 The Napoleon Pavilion, given by Napoleon III to Kong Norodam.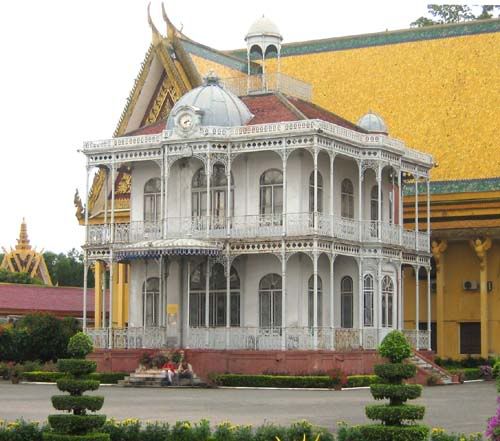 Part of the murals on the walls surrounding the Silver Pagoda. They very much resemble the murals at the Royal Palace in Bangkok, although they are a bit less formally composed, more free in their sense of movement.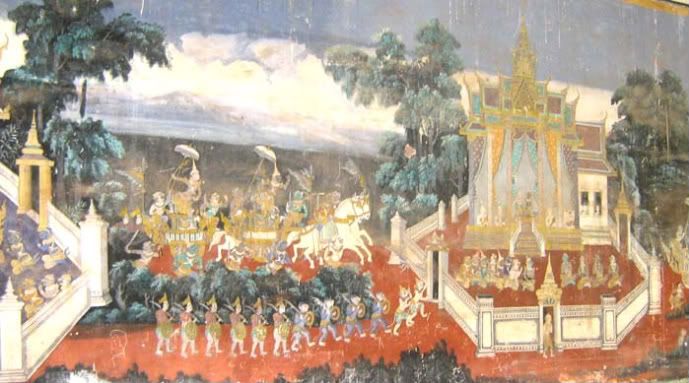 The Silver Pagoda, which has 5000 tiles of silver covering the floor. Of course you aren't allowed to walk on the tiles, they have carpeted all the areas you are allowed to walk, but you can see some of the tiles. The Pagoda is filled with religious and artistic works that belong to the national antiquities department. So there are display cases filled with hundreds of gold and silver Buddha images with a sign that says, "Gold and silver Buddha images, Circa 3rd Century BC to 19th Century AD." It isn't very enlightening, to say the least. It is just a big jumble of artifacts haphazardly arranged, with no attempt to interpret the significance of the pieces. It gets boring pretty fast.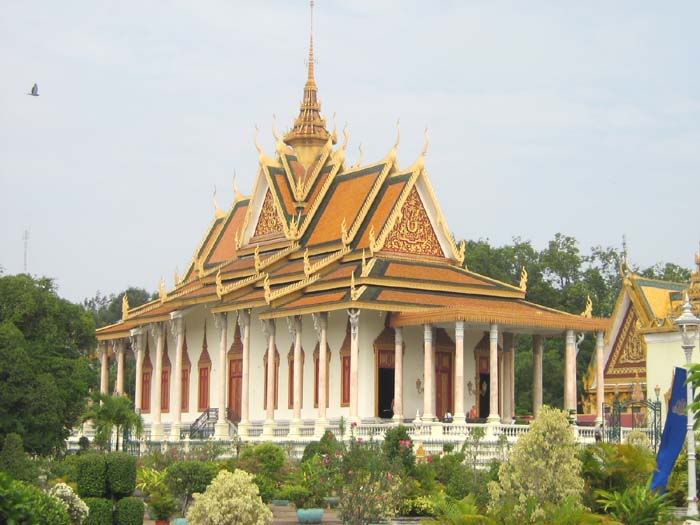 Next time I will share some of my thoughts about the city itself.