Unfortunately my trip to Nakhon Sawan did not work out very well. I left CM on the 27th, taking the Nakhon Chai Air bus to Nakhon Sawan. The trip lasted six hours. It was very comfortable, only 24 seats on the bus, two on one side of the isle, one on the other. So the seats are wide, well padded, full electric position control, individual TV for every seat, in flight meal, (although the pork in the pad graphow was a bit stringy in my opinion) in addition you get water, juice, crackers, and they have a perky hostess to top it all off. If you go by bus in Thailand and they go to your destination, Nakhon Chai Air is the way to go. They provide point to point service and have their own terminals, so they don't stop along the way. I had to buy a ticket to BKK (806 baht). They dropped me off on the side of the highway, one block from the Nakhon Sawan city bus terminal. But it is worth doing it that way, because the ride is so much more comfortable and quicker.
After arriving in NS I wandered around for a while and found a very comfortable hotel, P. A. Place Hotel. It was good sized, clean, quiet, with AC, cable, a fridge, and complementary morning coffee for 390 baht. Much cheaper than CM rates. That I wandered around the city a little, ate dinner and retired for the night.
On the next day I wandered around the riverfront and spent the early afternoon birding at Sawan Park, a large park in the center on NS with a really big lake in the midlle. I saw quite a few birds, including three new species for me, including the White Throated Kingfisher pictured below.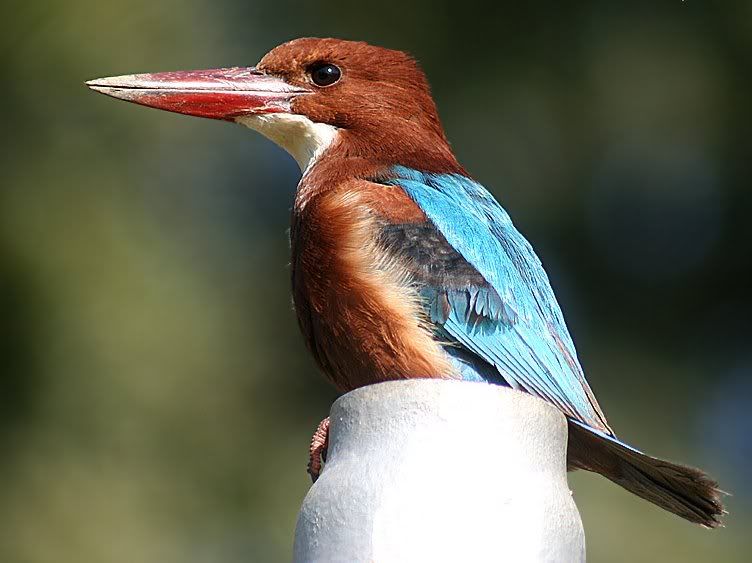 (Photo Credit: J. M. Garg http://en.wikipedia.org/wiki/GNU_Free_Documentation_License)
After it got too hot to be outside I went to Big C for lunch and people watching. (People watching makes a nice change from bird watching). My plan was to go to Bueng Boraphet the next day. This was the reason for going to NS in the first place. I wanted to bird on and around this large lake. But it was not to be! About 4:00 in the morning I woke up with an urgent need to go to the toilet, a condition that continued to plague me for about 24 hours. Going out to a remote lake was out of the question. I spent most of the day in bed (When I wasn't in the bathroom that is).
The next day was the 30th, and I was feeling better, but I needed to get back to CM. I knew traveling at this time would be difficult, and it was. New Year's is a major holiday in Thailand, when everyone tries to go home to the province of their origin and spend a few days with family. I got to the bus station early, but was told "Bus full already, cannot go.!" I expected this, so I told them, I would wait, maybe another bus would come. Well, maybe there will be a seat on the second class bus. I was sold a ticket for 280 baht. When the bus arrived, about 20 people queued up for the half dozen open seats on board. (Well, queue probably isn't quite the right word, it was more like a rugby scrum outside the door of the bus.) I was lucky, they called for passengers traveling through to CM first, so I got a seat. People traveling shorter distances had to stand. After a few miles, people started getting off at the roadside to go to their little villages so more and more people got to sit. Of course the scene repeated itself at Kamphaeng Phet and at Tak. After Tak the crowds thinned out, and it was no longer standing room only. But traveling second class is still no picnic. The seats are hard and narrow, and the space between rows is small, so it becomes very uncomfortable very quickly. No in trip meal, no movies, no toilet, and no rest stops. the trip was almost 8 hours. So I sat for the entire period, only getting up once to allow the woman next to me to get out at Tak. Eight hours without a restroom break isn't easy, but I had prepared. No coffee that morning and only a couple of small bottles of water to get me through the day. Still, when I got to CM the first thing I did was head for the restroom.
I did have company for the first part of the trip, an older American who was traveling to Tak sat opposite me, (When he finally got a seat). He teaches English in BKK and we compared notes on our travels in Asia, and the experience of teaching in Asia.
Despite the difficulties, it was a good trip, and it definitely did me good to get out of CM. I will have to try and make a trip to Bueng Boraphet some other time.